One of the best things in life is jewelry. Okay, I'm probably a little biased, but seriously- is there anything like that perfect pair of earrings or a favorite necklace to make your day absolutely perfect?
If you said- Yes, absolutely!! I will bet you a sparkly star sticker you have a problem. The problem is sneaky, and can be surprisingly irritating.  Can you guess what it is?
Yep.
I'm talking about storing all that gorgeous jewelry.
Sure we see all those influencers with stunningly organized walk-in closets and elaborate trays on Pinterest. Or those super cute teeny little dishes on Instagram… but let's get real.
You'd need six cases of those cute little teeny tiny dishes. And do you really have room to devote all that drawer space in your closet? I know I don't!
Enter my favorite Jewelry Organizers.
I have several, because of course I do. But also! I take jewelry with me when I travel, I want it organized when I'm home, and I am constantly adding new pieces, or rotating styles.
Check this out: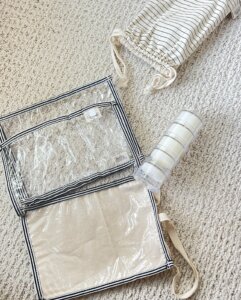 Super cute, right? And absolutely perfect for travel. It's called a Jewelry Snug. Just put a single necklace in each compartment, roll it up and pop it in your luggage. No tangled chains, and you can find anything you need. You can find similar ones
here
, and
here
.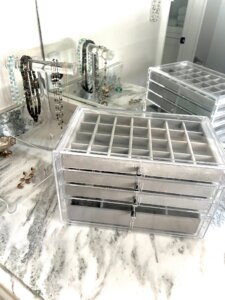 Then for at home, sure I may keep a few special pieces in those cute tiny dishes, but the majority of my pieces I keep in
this gorgeous jewelry organizer
. I love the drawers, and it looks so chic and elegant in front of the mirror in my closet! I picked mine up a million years ago, but
Amazon has this one
which is practically identical.
Happy organizing!